Dedicated to my good friend Julie, a fellow animal lover (with a fondness for horses).
I've always been an animal lover. I know, surprising coming from a vegan. However, even before I gave up animal products, I grew up with a profound respect and love for the creatures of the world. I've had pets most of my life and around 90% of them have been rescues. Sometimes I think my cynicism comes partly from the callous "it's just an animal" attitude that most people seem to have.
Perhaps it's not surprising that the first novel I ever read was
Black Beauty
by Anna Sewell. After getting bored with the simplistic picture books that were still being read to us in the first grade, I went off in search of something to read on my own. I stumbled across a second hand book that had been given to me as a gift. It was a smallish book and quite old, the pages were tan. On the cover, there was a black horse and in turquoise letters the title declared the horse's name to be Black Beauty.
Reading this book was a life-changing experience for me. I had never experienced a book told from an animal's point of view (outside of the normal
cartoonish child book fare). Beauty's pain, and that of his friends, was palpable. Yet here was a horse that had every reason to despise humans and never once lost his faith in them. He was a character that even at a relatively young age, I was able to identify with.
I have always credited Anna Sewell with raising my consciousness about animal rights. So I decided to start this series by researching her, as this book has stuck with me throughout the years (I can still vividly picture scenes from the novel even though it has been more than ten years since I have read it). I didn't know the first thing about Sewell before starting on this personal project. Reading about her, I found a couple surprising things about her.
Anna Sewell had the misfortune of being born during the Victorian Era (when being a woman just plain sucked. Granted, it still sucks now, however the Victorians brought a whole new level to misogyny and sexism). Victorians liked their women to be on the verge of invalidism, the sicklier the better. Sewell certainly fit that bill, though it wasn't entirely her doing, but more on that later. Sewell was born on March 30th, 1820 in Yarmouth England. Her parents were devout Quackers and throughout her life, Sewell would struggle with her own religious leanings.
Sewell never married and lived with her parents throughout her life. Her father was unable to pay for formal education for both his children (Anna had a brother, Philip), and Sewell was home-schooled until the age of twelve. Her teacher was her mother, Mary (another impressive woman in her own right). Sewell is believed to have gotten her courage and independence from her mother. Unfortunately, her distress also seems to have come from her devout mother as well. From a young age, Anna and Philip were taught the value of sacrifice and self-denial. Though they were by no means a privileged family, they were taught to appreciate the things the did have. Anna Sewell was never comfortable with the idea of relinquishing the self to the will of God.
Sewell's love of animals came from a few different places. One of them was lessons from her mother on one of Mary's favorite subjects: natural history. From an early age, both Sewell children were taught to be kind to animals. Throughout her life, Anna would never tolerate cruelty towards animals (or the helpless in general). Cruelty towards animals was one of the things that would stir a righteous anger in Anna. Her niece recalled that wherever Anna was or whoever she was facing, she would stop and chastise the person being cruel with scathing words.
Between the ages of twelve and fourteen, Anna Sewell was able to have a formal education. It proved to be some of the happiest times of her life. She had a gift for languages and a talent for drawing. When she was fourteen, Sewell fell and severely hurt her ankle. This injury left her in a state of semi-invalidism, which she would have for the rest of her life. Strangely, it was this injury that would cement her love for animals, horses in particular.
Sewell would often be stuck at home and perhaps this is what led to her hypochondriac tendencies. She relied on her mother for almost everything. Anna Sewell needed help to get around and the only time she could go anywhere on her own, she relied heavily on her pony and cart. Horses were Sewell's one way to get around without help from her mother.
Mary Sewell disapproved of her daughter's artistic leanings and Sewell experienced guilt about pleasure, as well as her artistic expression. To be chastised for doing something that you love, something that comes naturally, that is a cruelty that all artists seem to experience at one point or another. I know I can certainly sympathize with Anna Sewell's distress and frustration (living in a business-minded family, sometimes it feels as though I'm speaking Martian).
In her adult years, Anna Sewell became a kind of editor and critic for her mother's own literary endeavors. Mary Sewell wrote ballads for the poor, mostly spiritual instruction. It was through these activities that Anna Sewell developed a love for the established poets, which her mother eventually shared.
When Sewell began writing
Black Beauty
, which would be her only novel, she'd had to give up her pony and cart and became fully dependent on her mother. Keep in mind, Sewell was writing this at a time when people really didn't give a damn about animals, particularly horses (which were viewed not as living things, but a mere mode of transportation). The Victorians favored a thing called a bearing rein, which made the horses look pretty but caused the animal a horrible amount of pain and even difficulty breathing:
"Its sole purpose was to improve the bearing (deportment) of a carriage horse. A horse naturally lowers its head and stretches its neck when pulling a load, horses wearing a bearing rein cannot easily pull a load." (From the website "Horses")
Influenced by "Essay on Animals" by Horace Bushnell, Sewell wrote the novel to encourage kinder treatment of horses. Choosing to write an animal autobiography, rather than just an animal story, Sewell's book allowed people to experience the life of a horse. Writing allowed Sewell to exercise her love of words and language. Black Beauty, the novel's narrator, is a horse that goes through many trials (many of them horrific) yet winds up in a better place. Sewell showed the cruelty endured not just by horses, but also by the poor. This is best demonstrated in one of Black Beauty's kinder owners, Jeremiah Barker, who is forced to give up Beauty because of his fragile health (which is partly due to being forced to work long hours in terrible weather).
Sewell wrote her one novel to encourage kindness, sympathy, and understanding in the treatment of horses. The RSPCA eventually used it to abolish the bearing rein. Sewell also wanted to present the very real difficulties of cabmen and after the novel was published, London missionaries established cabmen shelters.
Anna Sewell succumbed to illness (there is debate about the specific one) on April 25, 1878. She was fifty-one years old.
Black Beauty has become an impressive novel, though Sewell did not experience much of its success, dying mere months after its publication. Susan Chitty, who wrote a biography of Sewell in 1971, noted "the sales to date [1971] have been estimated at thirty million, a remarkable figure when you consider that the entire works of Dickens are estimated to have sold a little over forty million" (Prusty, 265). Can I get a "fuck yeah!" (because I really, really hate/loathe/despise the bloated ego maniac that was freaking Charles Dickens). The work has been adapted in numerous movies and has been in print for more than a century. It has been translated into numerous languages and remains the most successful novel narrated in first-person by an animal. One of the most impressive achievements of Sewell's novel is that she managed to evoke sympathy for a nonhuman hero.
My own sympathy is that I find a strange kindred spirit in Ms. Sewell. She started out an independent woman born before her time. Perhaps in another century, she would not have had to experience such distress at being an artist. She was born a writer, something that she couldn't help, and at every corner she faced discouragement. Constantly in failing health, she managed to persevere and do what came naturally: write a novel. To me, that's what is most admirable about Sewell: despite all odds, she wrote. And she made a difference.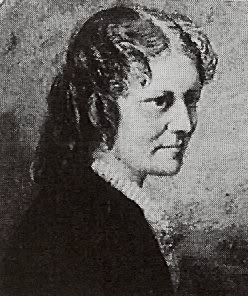 Anna Sewell
Bibliography
Carrington, Bridget. "Anna Sewell." The Oxford Encyclopedia of Children's Literature. Oxford: Oxford University Press, 2006. 445. Print.

Gavin, Adrienne E.. "Anna Sewell." Oxford Dictionary of National Biography. Oxford [u.a.: Oxford Univ. Press, 2004. 835-836. Print.

Gilbertson, Irvyn. "Anna Sewell." The Continuum Encyclopedia of Children's Literature. New York: Continuum, 2001. 711. Print.
Prusty, Lopa. "Anna Sewell." Dictionary of Literary Biography, Volume 163: British Children's Writers, 1800-1880. Detroit: Gale Research, 1996. 259-265. Print.

Silvey, Anita, and C.M. H.. "Anna Sewell." Children's Books and Their Creators. Boston: Houghton Mifflin, 1995. 593-594. Print.
*
Special Note
I do apologize for the late start of this personal project. I know I said I would start in late June and I really did try. Unfortunately, some health setbacks prevented my doing so. Even more unfortunate, health troubles may prevent my regular updating, though I will do my damndest to stick to a schedule (I'm aiming for weekly updates, possibly a little less depending on how much information I have on the author I'm profiling). There will also be some "theme" entries: authors that I have grouped together for a particular reason. The first couple authors are the first writers I ever read on my own and therefore had some influence on my own writing. Also, if there's a bold entry in my bibliography, that simply means I mostly used that particular source for information (and the other sources were just kind of to fill in the blanks).
So please stick around and let me know what you think. I'd love to hear about writers that influenced you as well. I'm always up for talking shop with fellow writers :)
I hope you all have a wonderful and safe 4th of July (if you celebrate it...which I kind of don't. Personal family feuds and all that, long boring story).
Until next time